Track meet in Clear Lake cancelled for today

The Sanford Webster Clinic will begin giving COVID-19 vaccinations for students ages 16 and 17. We strongly encourage you to get your vaccination and, to get on the list, call them directly at (605)345-4141.

The golf meet scheduled for Tuesday, April 13 has been postponed due to course conditions and weather. Practice will be indoors at Summit.

There will be a 10:00am start on Thursday, April 15 due to staff getting Covid-19 shots.

Reminder Prom Grand March is at 7:00 tonight. Public is invited to attend, MASKS ARE REQUIRED. Doors will open at 6:50.

The track meet at Estelline today has been postponed.

Reminder: Warwick Workouts Camp last day is tomorrow, April 8, 2021. Warwick Camp Leaders will be bringing Warwick shorts and hoodies available for purchase by camp participants. Shorts and hoodies will be $20.00 each. If your child wishes to purchase either, they will need to bring money tomorrow to pay for these items. Sizes are limited to Youth XL and adult sizes. Please make checks payable to Warwick Workouts

Community use fobs for the gym will be unavailable this week due to prom. Sorry for any inconvenience this may cause. thank you

Prom is fast approaching! The Grand March will be on April 9, 2021 at 7:00 pm. Parents of Prom-goers will be allotted 4 tickets per couple to enter the gymnasium at 6:30 to take pictures prior to the Grand March. The general public is able to attend Grand March however, MASKS ARE REQUIRED to enter. Doors will open for public at 6:50, no ticket needed. It is asked of the Jr. Class Advisors that all who attend the Grand March leave immediately after the conclusion of Grand March so the dance can begin right away. We would appreciate your cooperation in this matter to make Prom as normal as possible for our students here at Waubay High.

Friday, April 2 is World Autism Awareness Day. Please wear blue or your autism awareness apparel on April 1st.

Reminder: The NAMI: Ending the Silence program for parents/guardians is at 6:00 tonight in the commons at Waubay School!

Hey Grizzlies fans! Track season has begun! We have some new options for ordering Grizzlies apparel! You can follow the links below: FanCloth link- orders will be shipped to your home or whichever address you designate Link Closes on March 31st
https://fancloth.shop/DAVMN
Roy's Sport Shop- you have an option to pick up in Watertown or have items shipped to you Link closes on March 28th but will reopen sometime on March 29th
https://dakotahills2020.itemorder.com/sale
XGrain Apparel link- can have items shipped to Waubay School or an address of your choice Link closes on March 31st
https://stores.inksoft.com/WS50677/shop/home

Golf practice will start on Monday, March 29. Mr. Bloom will meet the Waubay golfers at the Purple Cow to discuss rules, etiquette, schedules, uniforms, expectations, etc. at 4:30. Golfers do not need to bring clubs the first day. First week schedule will be all indoors: Monday- meetings Tuesday- practice in Summit Gym (3:30) Wednesday- no practice Thursday- Summit Gym (3:30) Friday- Waubay School (we will do "short game" practice on the grass west of the school-- leave from Summit School at 3:15 to practice in Waubay at 3:30) Contact me with any questions, thanks! Nathan Bloom

Grades 1-6 Warwick Workouts Announcement: Due to a scheduling conflict there will be no camp on Thursday, April 1st, camp that day is rescheduled to April 8th.

Reminder: School will be dismissed at 1:30 tomorrow, Wednesday, March 17th, for staff COVID shots. There is also no school on Friday, March 19th.

Attention 1st - 6th grade parents: Waubay-Summit Basketball Workouts form and payment is due March 18th. Mr. Spindler will give 1st - 3rd graders a ride to Summit at 3:10 - there will be NO RIDE back from Summit for 1st - 3rd graders. 4th - 6th graders can catch a ride at 4:55 to Summit and will have a ride back to Waubay at 7pm.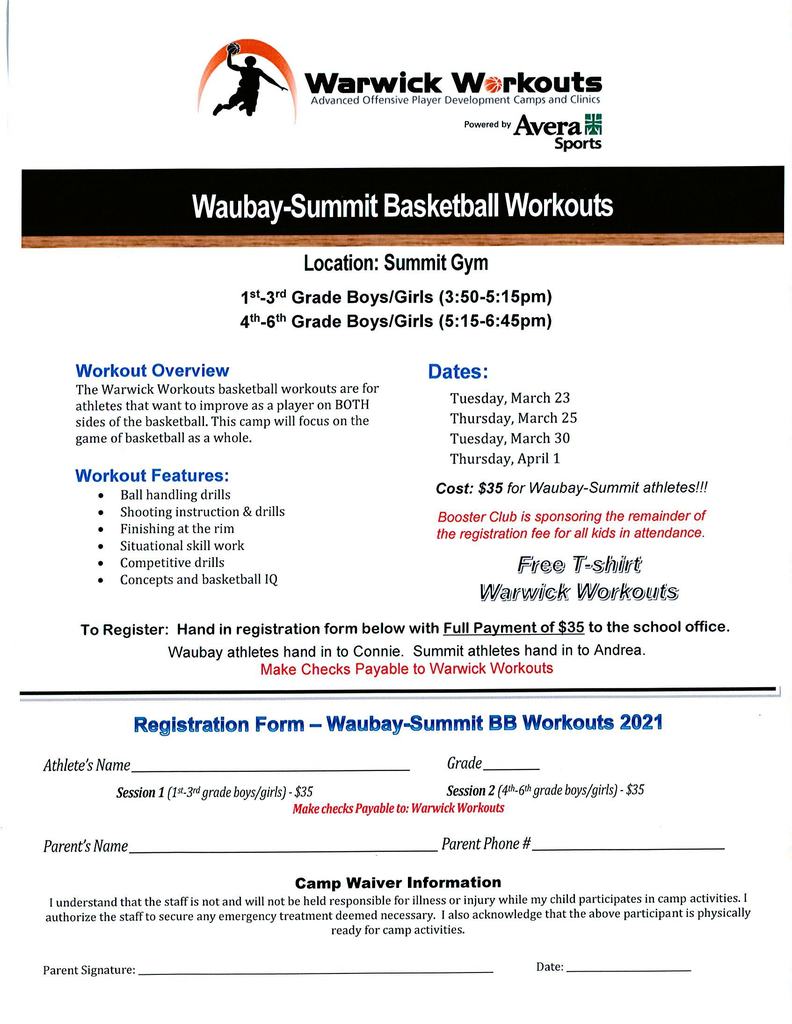 Waubay School will start at 10am today, Monday, March 15th.


Due to the weather school will be dismissing at 1:30 today!

Mustangs fall to White River 71-52. We are so proud of our Mustangs!!! Congratulations on your awesome season. Very proud of all of you and your hard work! GO MUSTANGS!